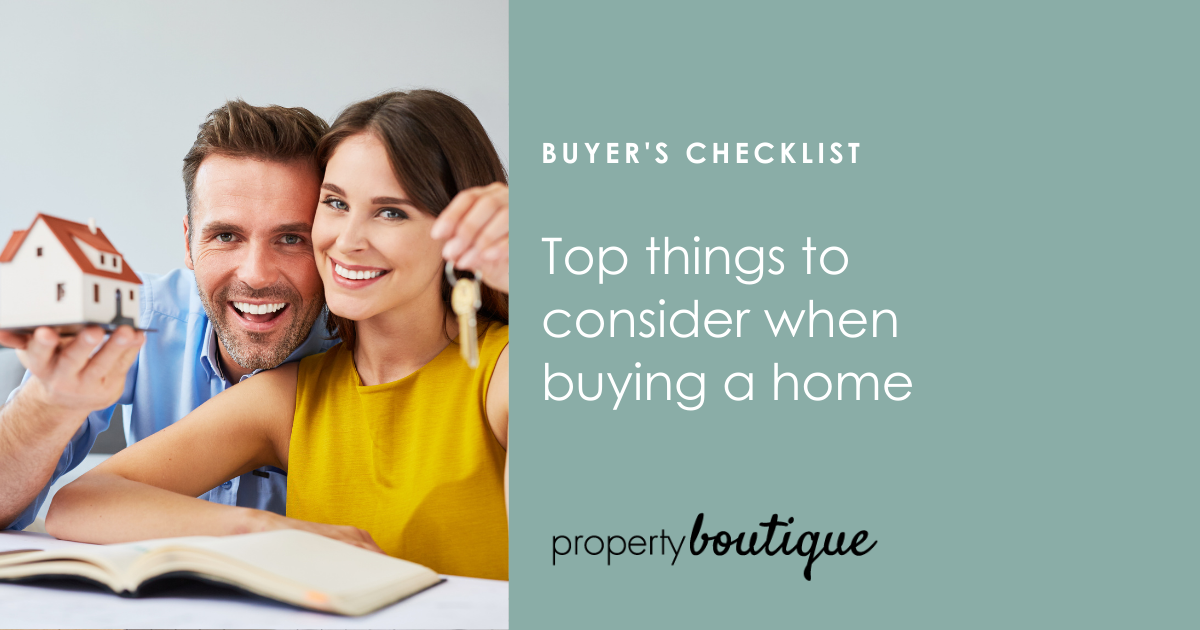 There is no doubt that buying a home is one of the most important decisions you will ever make.
Our team at Property Boutique has compiled a list of key things to consider when buying your home.
Let's work from the start: what are some key points to consider when buying?
Firstly, you need to decide what type of property you are looking for (house, unit, duplex, acreage etc).

Next, determine the area that is right for you. Things to consider when shortlisting suburbs will change depending on your circumstances, however, common priorities may be: school catchment zone, proximity to essential services such as transport and shopping centres, size of the land etc.

Now that you have determined the type of residence and area, consider things such as whether or not you will be in a position to renovate a house and how extensive could that be, or, do you need a house ready to move in to.

Size of the property- how big does it need to be? How many bedrooms, bathrooms, car spaces etc? These will all be essential when searching for you new home.

Finally, it goes without saying that buying a home means determining a budget and sticking to it.
Once you have worked out the type of property you will be buying, the area and your budget, it is crucial to pay attention to the qualities that make a good home. We have compiled some key aspects to look for.
No drainage issues

No moisture problems

No existing termites or extensive damage from old termites

No dry rot timber

No structural issues
A building and pest inspection is essential in determining the quality of a home and will help you detect these key aspects listed above.
If you're interested in purchasing in the Gold Coast or Brisbane area, or for more information on buying your home, contact us today on 1300 20 55 70.
DISCLAIMER - The information provided is for guidance and informational purposes only and does not replace independent business, legal and financial advice which we strongly recommend. Whilst the information is considered true and correct at the date of publication, changes in circumstances after the time of publication may impact the accuracy of the information provided. Property Boutique will not accept responsibility or liability for any reliance on the blog information, including but not limited to, the accuracy, currency or completeness of any information or links.